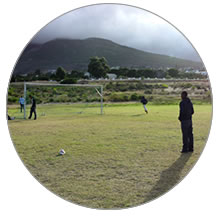 Soccer:
The World Cup excitement is definitely here in South Africa!
Building on that, I am able to use soccer as a means to reach the youth of Ocean View in relevant ways.
In the next two months I will coach, assist with a soccer festival, and set up "World Cup Viewing Outreaches" (showing World Cup games on a big screen in the townships). More...

Ocean View Community Center:
I am passionate about being part of a launch team for building a Community Center in Ocean View.
My dream is that the community center would be a safe place for kids - providing a beautiful field on which to play soccer (instead of the street or bare dirt fields they are used to).
We would also offer computer classes, job training, tutoring, art lessons, Bible studies, and much more. More...